There are many ways Banff and Banff ski resorts boggle the mind. Home to some of the most beautiful scenery in the world and officially as a UNESCO World Heritage Site…
Banff National Park and Banff Sunshine Resort are bucket list-worthy destinations. Snowboarding here is a superlative way to experience it. Visiting the wildly beautiful area in winter is nothing short of magical, especially for snowboarders, and comes with far fewer tourists.
Snow-covered trees dot majestic, rocky peaks, and there's no sign of civilization (industrial venture or anything else) beyond the ski resort boundaries. Banff Sunshine is Canada's highest ski resort at 8,960 feet (Hello Sunshine!). It also boasts a unique location along the spine of the continental divide, riders can carve right over it and hop from British Columbia to Alberta and back.
Banff Sunshine's 3,358 acres of terrain receives over 360 inches of annual snowfall and the high elevation can extend the season into the month of May or even June. With dry fluffy snow and miles of glorious trails, there is so much for all ages and abilities to explore at the SkiBig3 resort of Banff Sunshine.
---
Best Runs at Banff Sunshine Resort:
Banff Sunshine is a vast resort spread across three main peaks, but it ends up being easy to navigate between lifts and summits, with every lift offering up laps for days for all abilities. Starting at the parking lot, hop on the gondola. The first stop on the gondola is Goat's Eye Mountain with intermediate to advanced terrain.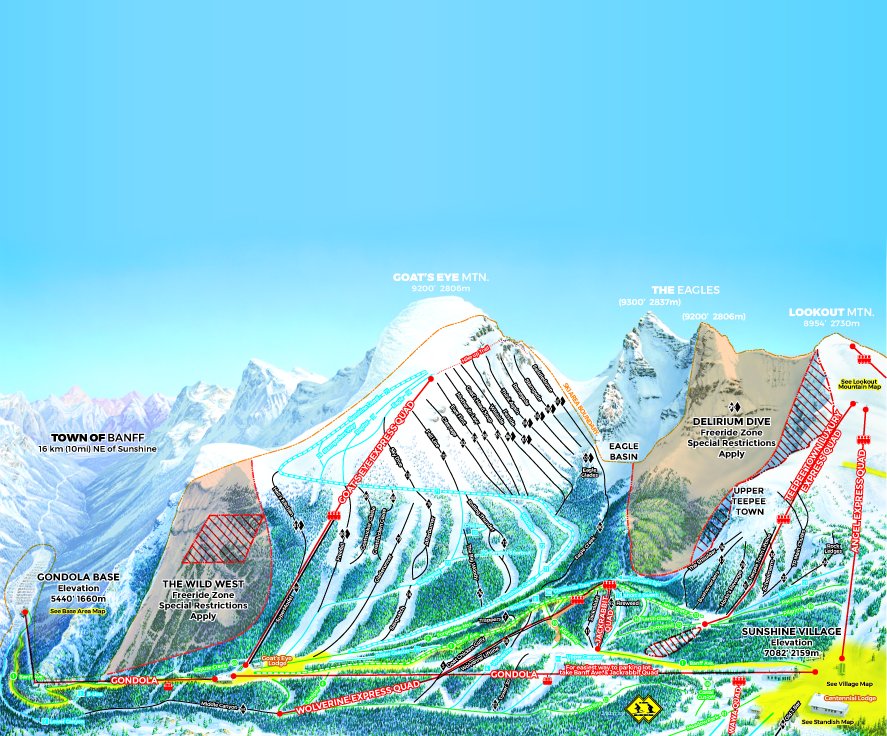 Goat's Eye Mountain is a gold mine of challenging slopes and breathtaking vistas that tops out at 9,200 feet, but the lift drops below the summit. Goat's Eye Express is the first stop on the Gondola, and often a good way to ditch the crowds who will continue on to Sunshine Village. The Hike Up Trail is more traverse than climb and leads to the spectacular far slopes of Saddledome, Stampede, and Renegade. These expert alpine runs feed into Eagle Glades and Eagle Creek. When the Goat's Eye chutes are open, we could ride laps here for days.
To access the other mountains, re-load the gondola at Goat's Eye and head up to Sunshine Village. From this mid-mountain base, you can connect with three lifts to ride intermediate and advanced Lookout Mountain and three other lifts to hit beginner and intermediate runs on Mount Standish.
North Divide and South Divide are iconic runs and must-rides off the Great Divide Express Quad. They lead into the main terrain parks at Banff Sunshine for an exhilarating end to the sweeping runs: Great Divide/Rockstar (for the biggest jump line at the resort and medium rails and boxes), Grizzly XXL (for big jibs and medium jumps), and Spring Hill (playful, changing features made of snow).
On the other side off Mount Standish, there is a run for every ability. The greens, The Dell Valley off Strawberry Express and Meadow Park off Wawa Quad, are perfect for practicing turns. Experts might be tempted by the micro-chutes (Headwall and Garbage) of Standish Lift. They are fun with deep snow, and offer short thrills for experts and good practice for intermediate riders. (Be prepared for slowing in deep snow when the terrain levels off.) If a glade is more appealing than cliffs, follow Tin Can Trees for a taste of Banff's tree skiing.
Best Runs for Beginners at Banff Sunshine Resort
First-timers can steady their snow legs on the Magic Carpet Learning area under the Strawberry Express Quad. When you have the basics mastered, you can hop on almost any lift and find a green run for practice (avoid Great Divide and Goat's Eye). For other beginner options, venture below Sunshine Village and hop on Wolverine Express Quad. Here, you'll find many ski school groups and long green runs like Banff Ave. and the Wolverine Kids Play Park with beginner boxes, rails, and jumps.
The Dell Valley, Meadow Park, and Creek Run are long groomed greens that sweep around the lifts. There's plenty of space to gain confidence while practicing turns.
The parking lot (kidding, kind of) but if your car is parked at the far end of the lot, it has just enough slope to strap in and slide all the way to your car (I tested it out with great success.).
---
Best Powder Stash in Banff Sunshine Resort
Banff's ski resort is a natural snow magnet. It has comparable acreage to a U.S. resort but a fraction of the lifts, so much of the terrain remains untracked long after the snow falls. There are fewer people and plenty of powder stashes ripe for exploration.
Goat's Eye Express Quad has well-preserved snow after a storm. Often you'll have to wait longer for patrol to clear the 10 hike-to chutes (Cleavage to Saddledome), but once they do it's a free-rider paradise and big rewards await snowboarders willing to hike to the ski area boundary. The run-out is just as fun, with the gully of Eagle Creek offering up jumps and natural freestyle features.
Delirium Dive and Wild West are only open to riders with avalanche beacons and gear, so the lesser trafficked extreme zone is a powder haven if you come prepared (with the gear and the guts to dive in). The adrenaline rush starts immediately on Delirium Dive with a metal staircase bolted to the rocky cliff and a narrow drop-in to the alpine cirque below and a total of 2,000 vertical feet with 50-degree pitches before re-connecting with the village.
On a windy day, snow often blows over and accumulates under the Teepee Town Luxury Express Quad (added in 2015). Carve the stash left by the wind through and between Bushwhackers and Horto's Revenge. Laps here are luxe, thanks to the lift. It is a covered orange bubble and has heated seats, which are also a big bonus on blustery days.
---
Where to Eat on Mountain
There are seven restaurants conveniently located right in Sunshine Village and steps away from the top of the gondola. At Banff Sunshine, lunch is definitely the most important meal of the day. Choose from Java Lift Coffee Bar, Mad Trappers, The Alpine Grill, The Lookout Kitchen & Bar, The Sunshine Burger Company, The Chimney Corner, and Eagle's Nest Canadian Bistro.
If you're lapping Goat's Eye Mountain, there's no need to hop on the gondola and venture elsewhere for lunch. Goat's Eye lodge has basic seating, cafeteria food, and gear storage. It's the perfect spot for brown bag lunches and warming up with hot cocoa or tea.
Wherever you choose to pause for your midday fuel, be sure to look around. There are some uniquely Canadian brown bag lunch staples, like Dorito bag nachos/salads, that are fascinating to watch and could inspire a new lunch idea for day two.
Most Instagrammable Spots at Banff Sunshine Resort
Gondola: Looking back toward Mount Bourgeau on the return trip to the parking lot, wait for the red car of the skittles-colored cabins to appear in front before snapping. The gondola cars are painted all the colors of the rainbow to symbolize the resort is welcoming and safe for everyone.
Top of Goat's Eye Express: Walk toward the hike-to chutes and get *the* shot with The Eagles (impressive 9,200 and 9,300 foot high peaks) in the background, or a mysterious cloud-filled backdrop. When these gothic cathedral-like peaks are in view, there is no better backdrop.
Lookout Mountain: Ride down Lookout Mountain and catch a candid action shot with Citadel Peak and Mount Assiniboine (often and accurately compared to the Matterhorn) looming beyond. The above-tree line runs offer unobstructed views and epic proportions to photos.
Canadian flag: Pose with the bear (statue) at the parking lot base and snap a photo with the maple leaf waving proudly in the background.
Best Après Ski in Banff
There are several bars serving up sips in Sunshine Village, including Chimney Corner in Sunshine Village and Creekside Bar + Grill at the parking lot base, but a better bet is to high-tail it back to town. Banff Avenue has more après ski specials than you can fit into a trip. Our picks are The Bison Restaurant + Terrace (for local B.C. wine), Banff Ave. Brewing Co. (for nightly deals on craft beer and the can't-miss Thursday stein night), Park Distillery (for craft cocktails), and Earl's for cheap/quick booze and discounted pub food.
---
Why You'll Love It:
The rugged peaks create a big mountain, backcountry feel with all the comforts of a ski resort nearby. Banff welcomes the adventurous rider with pockets of extreme chutes, cliffs, glades, and unexpected (but always a blast) natural obstacles, and newbies with long sweeping groomed greens and blues off nearly every lift. It's easy to explore Banff Sunshine with a group of varied abilities; you can ride lifts together and meet up between laps.
Side-country options abound off the Wawa Quad (but warning these are out of bounds and any riders enter this wilderness with hazards like avalanches and unmarked obstacles at their own risk). The well-tracked Backdoor is easy to follow off rider's left on Meadow Park. A gentle green gives way to a just out of bounds tree-filled gully that feels like a natural halfpipe and terrain park. Wawa Ridge is a more hefty hike up the ridge, but the drop in above the gully and the views of the entire resort (Lookout Mountain, The Eagles, Goat's Eye) alone are worth the energy.
Snowboard Traveler Tip
Though Banff has more than enough to entertain adventurous snowboarders, a trip to Banff Sunshine is best when combined with a few days at nearby Lake Louise Mountain Resort, splitboarding and backcountry touring, or a road trip to ski resorts farther west in British Columbia (Kicking Horse Mountain Resort and Revelstoke Mountain Resort).
Snowboard Traveler Favorite
We loved everything about Goat's Eye Mountain, the black runs off the front and the many hike-to chute options.
Hiking off Wawa and accidentally ending up on Wawa Ridge was a thrill and an adventure we'd do again (though we'd get our AST1 and bring our full avalanche gear on our next expedition).
---
History of Banff Sunshine
Banff Sunshine Village got going in the late 1920s as a summer lodge with the Canadian Pacific Rail Company. Pioneering skiers explored in the winter and the first paying winter guests came way back in 1934. It took about 10 more years for the first permanent rope tow installation and it wasn't until the 1960s that Sunshine Village built a T-bar, the area's second lift and modern at the time. A flurry of expansion brought three additional chairlifts by 1970.
The current owners, the Scurfield family, purchased Sunshine Village in 1981. They, like many visitors before and in years to come, were lured by the natural beauty and family-friendly atmosphere. Under their leadership, the resort evolved into the world-class ski and snowboard destination it is today. More recent additions include Goat's Eye Mountain, Wolverine Ridge, and Canada's first heated chairlift, Teepee Town LX bubble lift.
Banff Sunshine Ski Resort Details:
Hours: Gondola 8:00 am to 6:00 pm, Lifts: 8:00 am to 5:00 pm
Opening/Closing Dates: mid-November to May 25 (Victoria Day)
Average Annual Snowfall: 360 inches
Address: Sunshine Access Road, Banff, Alberta, Canada
Nearest Airport: Calgary, AB (90 minutes driving)
Pass Access: Ikon Pass, Mountain Collective
Instagram: @sunshinevillage